2021 CARES – SOCK DONATIONS TO SCHOOL CHILDREN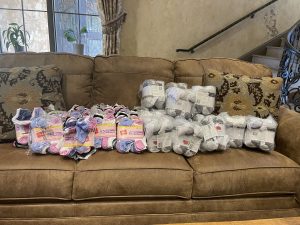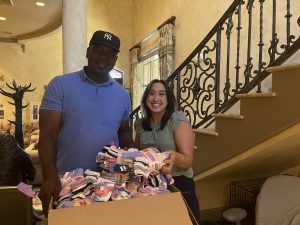 Sellstate AAD generic-flyer

**Thank you to all of those individuals that donate to the Next Generation CARES. We greatly appreciate you. **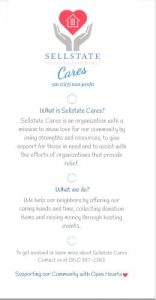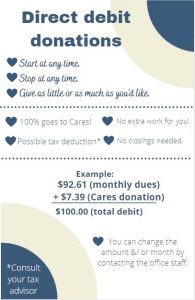 September 2, 2021
Advisors,
I firmly believe that it is our responsibility to be leaders in giving back to this community that has entrusted in us the privilege of guiding them through the real estate process. We have our own non-profit organization, Next Generation CARES, which allows our agents an easy way to participate in making our community a better place. An agent can contribute to the 501(c)(3) by marking the dollar amount that they choose on the agent tracker form. They can also contribute, at any time, thru a donation button on the portal. All contributions made thru the agent tracker form are recorded and you will receive a report at the end of the year reflecting your total contribution for tax deductibility purposes. In addition, when a contribution is made in any dollar amount, our staff will send an e-card to your customer indicating to them that a donation has been made from their transaction to better the community. If the contribution is for twenty-five dollars or more, a personal hand written card will be mailed to the customer.
I want to personally thank the following agents for contributing to Next Generation CARES:
2022

———————-0———————–0————————-0————————–0———————-0———————0——————
**2018–See where your donations are going….Kimberly Center for Children** – This was a huge success, raising $22,000 in one night – thank you everyone that gives to Next Generation CARES – Our community is our neighbors. 
Kimberly's Center is Marion County's compassionate response to the trauma of child abuse in a safe and child friendly environment. Through specialized services, the smallest victims receive quality and timely care by sharing their story and beginning their path to a healthy future. Kimberly's Center can be best described by the mission: Our Community working together to protect, serve, and advocate for abused and neglected children.
Before the formation of Kimberly's Center for Child Protection the trauma of child abuse did not necessarily end after the disclosure. The child would be repeatedly interviewed and asked to share the painful details of the abuse in order to learn the facts and circumstances surrounding the situation. While well intentioned, the exhausting process could cause further emotional trauma to the child.
In 1996, a task force of professionals and community leaders formed to consider a better, more sensitive was to respond to children who had been the victims of physical or sexual abuse. These individuals envisioned a place where hurting children would have a safe, child-friendly environment to talk about their abuse. Out of this commitment the Marion County Children's Advocacy Center, Kimberly's Cottage, was formed. Kimberly's Cottage is now known as Kimberly's Center for Child Protection.
Kimberly's is governed by a volunteer Board of Directors and solely relies on grants and community donations to provide the specialized, compassionate response to child abuse.